NMS Missouri is now leasing BRAND NEW luxury apartments in the heart of West Los Angeles. Offering two-, three-, and four-bedroom floor plans, each boasts elevated amenities that allow residents to live their best life. Plus, with our location near Santa Monica Boulevard, it's easy to get around the city.
Upscale Interiors
The luxury West LA apartments available at NMS Missouri have been newly renovated with modern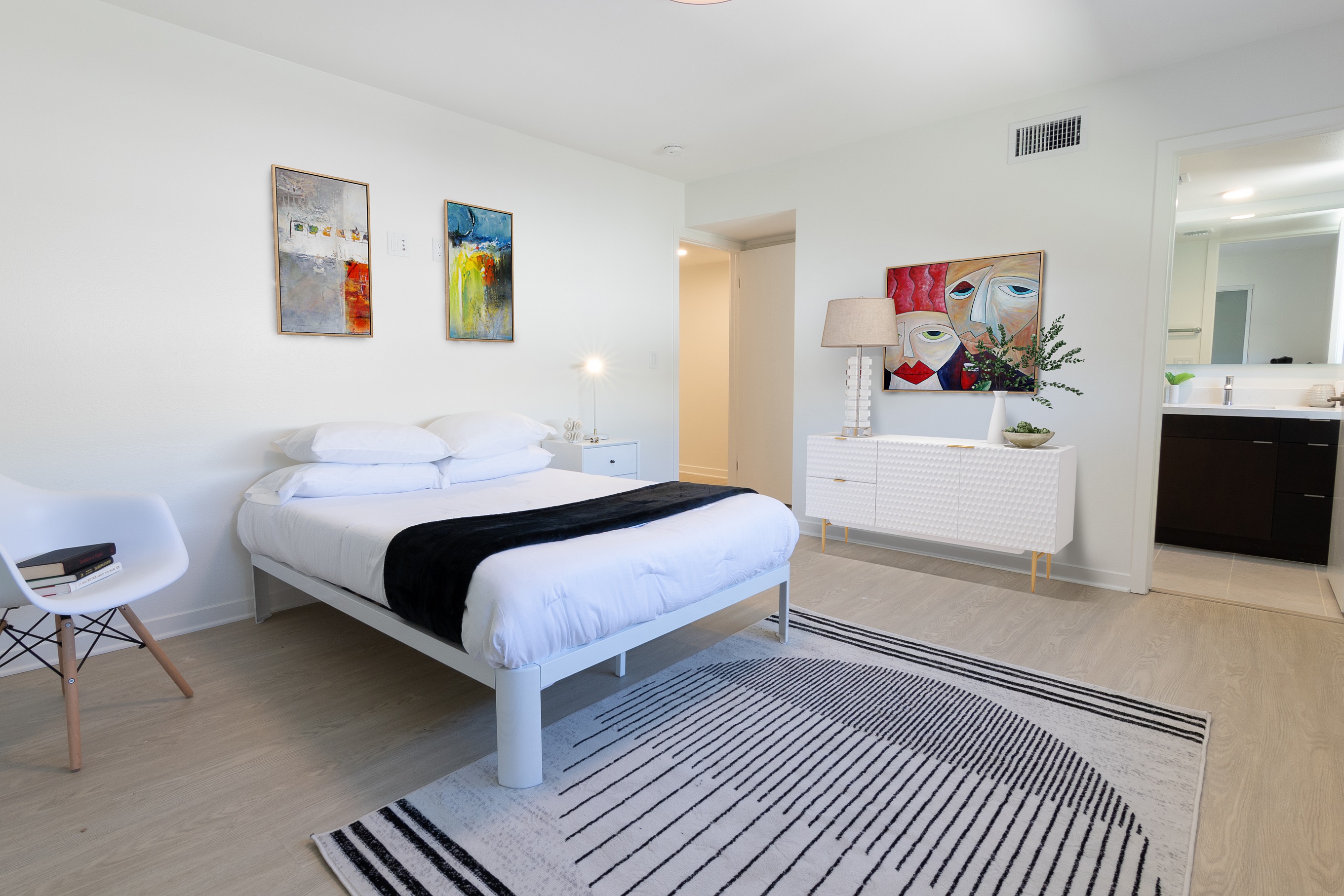 finishes and thoughtful interior design. In-unit amenities include cable/internet ready outlets, plush carpeting, central AC/heat, spacious closets, and in-unit washer and dryers. The kitchens have been designed with the home chef in mind, featuring quartz counters, ample storage space, and all of the latest stainless-steel appliances. For those who prefer hardwood floors, the apartments also feature beautiful hardwood-style floors in the main living areas. With so many great features, the apartments at NMS Missouri are sure to be stylish homes for years to come.
Wide Selection of Floor Plans
NMS Missouri offers a variety of different apartment options to meet the needs of a wide range of households. Two-bedroom apartments are perfect for small families or couples who want a bit of extra space. Three-bedroom apartments are ideal for larger families or those who entertain frequently. To top it off, we offer four-bedroom apartments with plenty of room for larger families or those who need extra space for hobbies or home offices. No matter what your budget or housing needs, NMS Missouri has an apartment for you.
Friendly Community
All residents of NMS Missouri have access to community amenities, which include bike room storage, on-call maintenance, and on-site parking. We're always available to tend to your needs. You'll enjoy the peace of mind that comes with knowing our team is just a phone call away. Plus, when you need to run a quick errand or get to your office, you'll appreciate the convenience of having a parking spot close by. Our goal is to make your life easier, and we're proud to offer these amenities as part of that commitment.
Incredible Location
There are many reasons why West Los Angeles is an incredible place to live. For starters, the neighborhood is home to Sawtelle Japantown, which is a great place to find authentic Japanese food and culture. It is also close to Century City, which is a thriving business district with high-end shopping and dining. Although it is known as a concrete jungle, there are plenty of parks and green space to be found in West LA, such as Rancho Park. Of course, the apartments at NMS Missouri are also just a short drive from Santa Monica and the beach, making it easy to enjoy a sunny day by the water. With so much to do and see in the area, it's easy to see why the apartments at NMS Missouri are so desirable.
If you're looking for a luxury apartment in West Los Angeles, NMS Missouri is the perfect place for you. Our newly renovated apartments feature modern finishes and thoughtful interior design and are located in a great neighborhood with plenty of things to do and see. Plus, our team is always available to tend to your needs, making life easy and stress-free. Come see why NMS Missouri is the perfect place to call home.